How to buy a domain name in 3 steps
Buying a domain name may seem like a daunting process. After all, there are so many domain extensions and domain name registrars to choose from, it can be quite difficult to know where to start. However, once you know what is involved in buying a domain name, the process becomes pretty straightforward.
There are three steps that you have to follow to buy a domain name:
1. Choose a domain name registrar where you will register the domain name.
You should choose a reputable registrar company that satisfies several criteria to ensure your domain name is in the right hands. We'll explore those criteria below.
2. Search for your desired domain name and see if it's available.
Domain names are a hot commodity, which means your first choice might not be available. Fortunately, you've got plenty of options.
3. Register your desired domain name with your chosen domain registrar.
Once you choose an available domain name, you'll be ready to register it for a specific amount of time. We'll show you exactly how to do that, too.
Let's go through the above-mentioned steps one by one.
How to choose a domain name registrar
The first step toward buying a domain name for your new venture is selecting a domain name registrar.
There are several factors you'll want to consider when selecting your domain registrar, but before going into those details, let's break things down a bit and explain a few different terms that you might come across as you're searching for the right domain name registrar.
Registrar refers to a company, such as GoDaddy, that manages the domain name registration process. Different domain extensions (such as .com) are managed by their respective registries, but those registries don't sell domains directly to users (aka registrants). That's where the registrar comes into play.
Like a middle man, the registrar works with the registries in order to deliver domains to end-users.
So, now that you're a bit more familiar with how the registry/registrar relationship works, let's take a look at what to consider when selecting your domain registrar.
ICANN accreditation
ICANN (or the Internet Corporation for Assigned Names and Numbers) is the governing body over domain name registrars. They provide guidelines and enforce rules that all accredited registrars must follow.
This is important, as it normalizes the domain name registration and management system (such as domain transfers, domain WHOIS updates, etc.). It also allows the domain customer a route for further assistance if they feel that their domain
registrar isn't abiding by the rules set out by ICANN.
Since your domain name is your online identity, this additional layer of governance is vital.
Complete control over your domain
There are some registrars that only provide partial control over your domain.
This could include the registrar adding their own contact information to portions of your domain details (which can make transferring your domain to a different provider much more difficult), or even preventing you from making critical updates to your domain settings (such as the ability to point your domain to your desired hosting provider).
Your potential domain provider should be able to tell you their policies on this before you register your domain name, so don't be afraid to ask if you're going to have full control of your own domain before you register it.
Quality 24/7 support
What's the benefit of having full control over your domain name if you're not able to get support for any questions that might have come up?
Choosing a provider with multiple avenues and availability for support is important.
It's vital your domain name operates as expected. It's the address for visitors reaching your site, and the last thing you need is to miss out on potential traffic because of a hiccup with the registrar.
A quality support team might even be able to assist you with choosing a domain. They can suggest available options, which will help you to make an informed decision about your domain name.
Pricing and domain options
Domain names aren't generally going to be a huge expense. Most of the common domain extensions are available for in the ballpark of $10 to $20 per year. But something that you might want to consider are additional options for your domain, such as bulk registration, domain privacy, theft protection, etc.
But what do those options mean? Let's take privacy, for example. While privacy isn't required for your domain, it can go a long way in protecting your personal contact information.
Domain registrars are required to provide valid contact information for registered domains on WHOIS searches.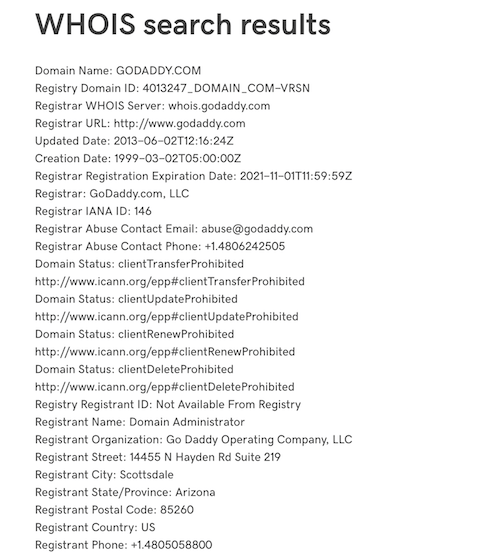 While there is a benefit to having valid contact information available there, the unfortunate downside is that spammers and scammers love to gather email contact information from WHOIS directories. In other words, privacy on your domain is a great way to protect your personal contact information. Make sure it's available with your domain registrar before purchasing a domain.
What about additional extensions? While many businesses choose .com domains for their primary web address, there are tons of interest-, industry- and geo-specific domain extensions available that you might find more appealing.
Not all domain providers will have a wide selection of domain extensions, so if this option is important to you, make sure they're available through your selected registrar.
Related: Domain extensions guide 
Not all features are going to be as important for some users, so select a domain registrar that meets your needs and has the options that you are interested in.
How to search for a domain name
Once you have found your preferred domain name registrar, it's time to search for your domain name. (We're going to cover lots of tips for choosing a great domain name after we go over the logistics of conducting a domain name search.)
Your domain name shapes your online business identity and helps you connect with your target audience. Think of your domain name — the address that people type in to get to your website or use when they send you a professional email — as either the name of your business online or as a fundamental element of your overall branding.
Your domain name is the anchor for your business's identity on the web.
As such, you shouldn't put off registering a domain name for your business.
Because it's so central to your online identity, it's best to buy a domain name in the initial stages of naming your business.
That way, you can check on domain availability BEFORE you settle on a business name. If you need inspiration for names that might work for your business, try our business name generator to get some ideas.