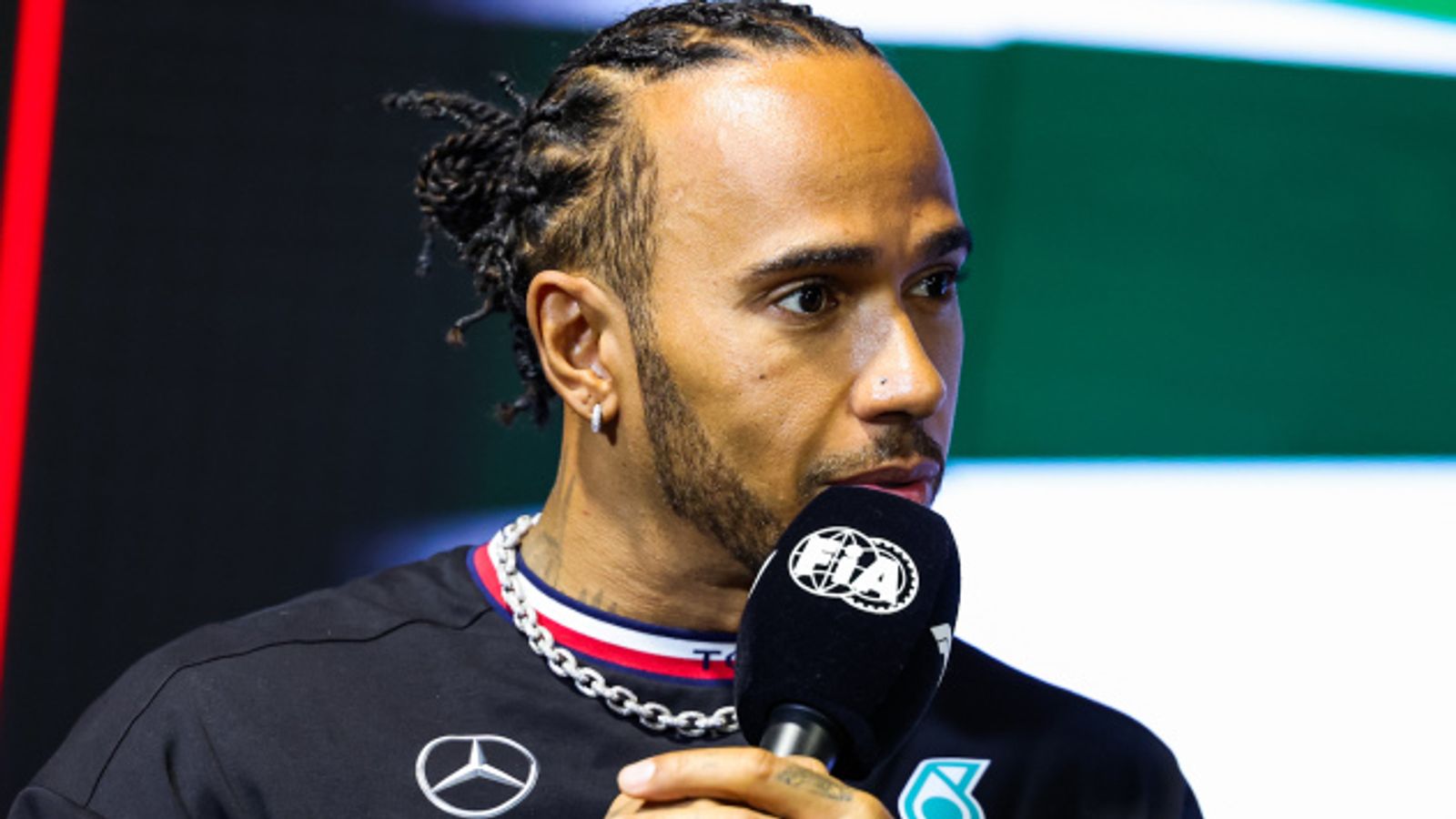 Lewis Hamilton has no 'plan' to leave Mercedes after poor start to 2023 Formula 1 season
Lewis Hamilton's future with Mercedes had been a subject of major speculation following the team's disappointing start to the 2023 season; watch the Saudi Arabian GP live on Sky Sports F1 this weekend, starting with Practice One at 1pm on Friday
Last Updated: 16/03/23 5:40pm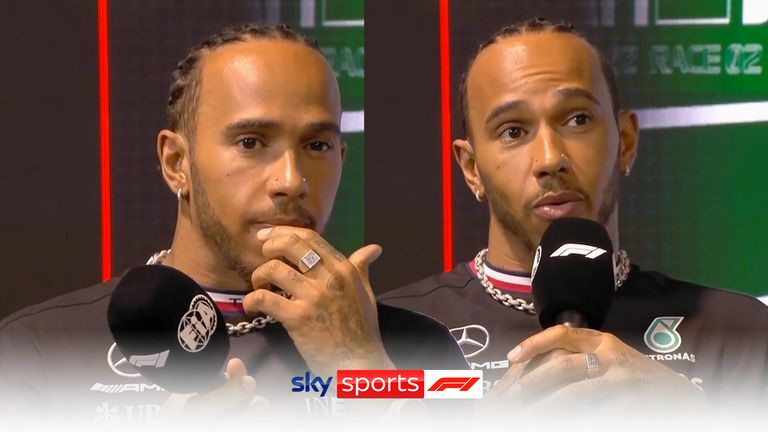 Despite having criticised Mercedes previously for not listening to his concerns about their car design, Lewis Hamilton insists he's still fully committed to the team and described them as his 'family'.

Despite having criticised Mercedes previously for not listening to his concerns about their car design, Lewis Hamilton insists he's still fully committed to the team and described them as his 'family'.
Lewis Hamilton has insisted he has no intention of leaving Mercedes but says the team needed "a kick" after their disappointing start to the 2023 Formula 1 season.
Mercedes, who were looking to bounce back from a disappointing 2022 campaign that saw their streak of eight successive constructors' titles ended, were well off the pace in Bahrain as reigning champion Max Verstappen led a dominant Red Bull one-two from Sergio Perez.
Seven-time world champion Hamilton finished 50 seconds behind Verstappen in fifth, with team-mate George Russell seventh, and after the race team principal Toto Wolff said Mercedes had accepted their current design concept was not good enough and needed to be changed.
Meanwhile, Hamilton expressed frustration with Mercedes over not being listened to in the development of the W14, which has led to speculation over his future ahead of this weekend's Saudi Arabian GP.
"In hindsight, I think looking back it wasn't necessarily the best choice of words," Hamilton said on Thursday. "Of course there are times where you're not in agreement with certain team members, but what's important is that we continue to communicate, continue to pull together.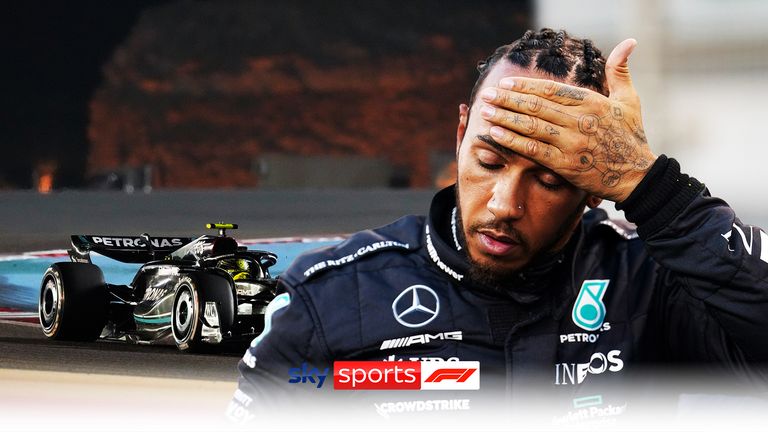 Sky F1's Martin Brundle gives his thoughts on Mercedes and Lewis Hamilton following their difficult start to the season. You can listen to the latest episode of the Sky Sports F1 Podcast now.
"I still have 100 per cent belief in this team, it is my family and I've been here a long time, so I don't plan on going anywhere else.
"But we all need a kick, we all need to get on – the proof is in the pudding, we've seen where the performance is and how people are extracting the performance, and we've got to now start making some bold decisions, some big moves in order to close the gap to these guys.
"Hopefully at some point during the year, we're hopeful we might be able to close the gap but at that point it will be probably too late in terms of fighting for a championship, but we can still turn some heads hopefully."
'No performance clauses in contract talks'
Speculation over Hamilton's future was fuelled by the fact his current contract expires at the end of the season, despite both driver and team having repeatedly insisted an extension is somewhat of a formality.
The 38-year-old said there are no performance clauses – for either team or driver – that will impact negotiations, but rather that talks are focused around how they can work together to make an impact with off-track initiatives.
"There are no performance clauses," Hamilton said. "We are in talks, just in the process of going through the motions of what that looks like, what the future looks like, what we want to do.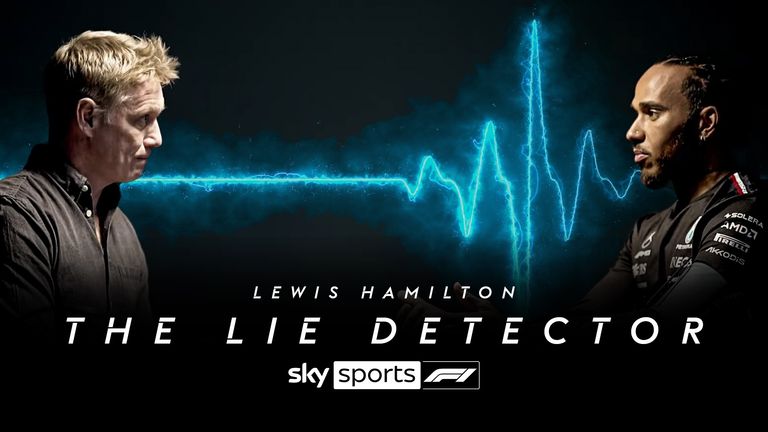 Seven-time world champion Lewis Hamilton took on the lie detector test – and you might be surprised by some of the results!
"(We are) always looking to continuously challenge ourselves rather than just doing a driver's contract like everyone does.
"What can we do? We did the Ignite partnership last year on how we can promote diversity within the sport, just exploring different avenues and what else we can do.
"I'm fully integrated within Mercedes-Benz. I've been with them for such a long time, since I was 13, so I'm very proud of the brand and the business, what they do, what they stand for and the impact they have throughout the world, but you can always do more, so discussions are around what else we can do together to lift people up."
Hamilton, who has previously said he does not "feel comfortable" racing in Saudi Arabia due to the country's human rights record, cryptically suggested he retains those feelings.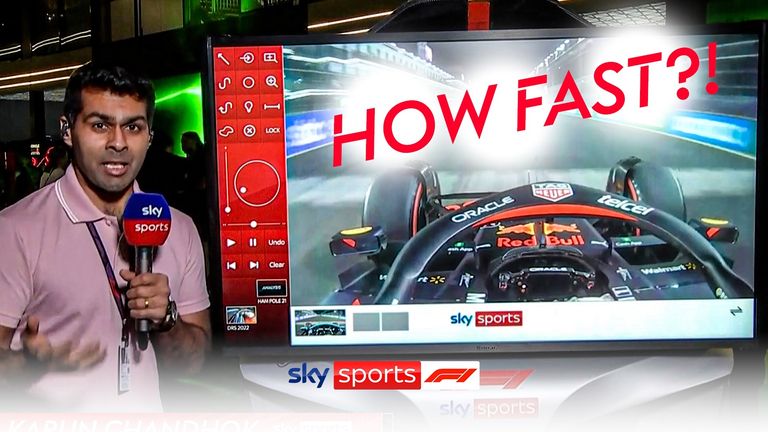 Sky F1's Karun Chandhok takes a look at the Jeddah Corniche Circuit ahead of this weekend's Saudi Arabian Grand Prix.
Each of the five drivers in Hamilton's Thursday press conference were asked about racing in Saudi Arabia, and after Aston Martin's Lance Stroll and Red Bull's Sergio Perez expressed positive sentiments, the Brit cryptically said: "Nothing much to add, but all the opposite to everything they said".
Asked to elaborate on his thoughts, Hamilton added: "If I'm not here F1 will continue on without me, so what I try to do is learn as much as I can when I'm going to these different places.
"Going to places with human rights issues such as this one I feel that the sport is duty-bound to raise awareness and try to leave a positive impact and I feel like it needs to do more, what that is I don't have all the answers but we always need to try and do more to raise awareness for things people are struggling with."
In the first running of the Saudi Arabian Grand Prix in 2021, Hamilton wore a rainbow helmet to show his support for the LGBTQ+ community.
Watch the Saudi Arabian Grand Prix live on Sky Sports F1 this weekend with Sunday's race live at 5pm. Get Sky Sports