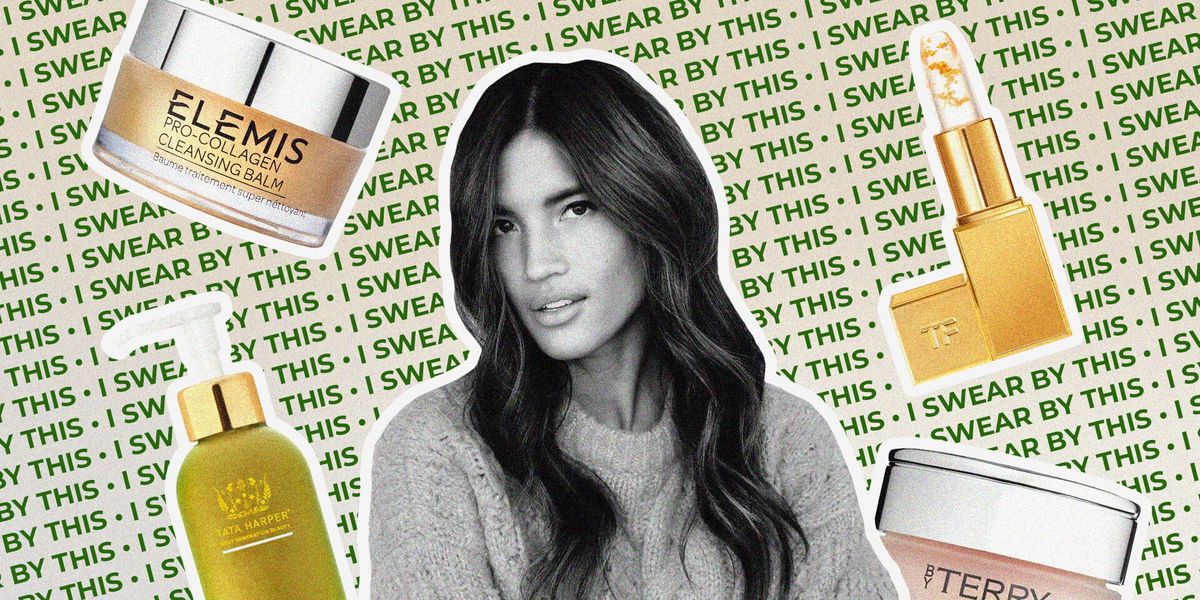 Rocky Barnes Favorite Beauty Products
Rachel "Rocky" Barnes has been a beauty girl since day one. No, seriously—her mother worked as a hair and makeup artist in Hollywood. "I spent my youth essentially either in a green room or at her salon after school, just hanging out and reading Allure and Vogue," says the content creator. Even with a mother in the industry, Barnes wasn't able to use makeup until she'd almost graduated high school and she'd have to put on her face in the bathroom after arriving at school. "I think she didn't want me to look older than I was, in a protective sense," Barnes adds.
Barnes' real beauty knowledge came during college when she joined a sorority, and after school, when she started modeling. "I've definitely had my fair share of horrible makeup where I'm crying in the bathroom and trying to wipe it off," she explains. "I think that experience gave me the knowledge of what works and what definitely doesn't work on my face." Nowadays, Barnes is fully confident in the products and services that work for her. Keep reading for all of the must-haves in her beauty routine.
With Lily Maldonado
Photo: Rocky Barnes
"I'm half Filipino, so I have Asian hair that likes to go straight down to the ground, and brow lamination changed my life. I never in a million years thought that I could have fluffy, full brows. It was a game changer for me."
Brow Lamination
With Emma Goodman
Photo: Emma Goodman
"I always get my facials with Emma Goodman, the Skin Witch. She does crystal therapy, gua sha, LED lights, extractions—she runs the whole gamut. She really takes a holistic approach to skincare and works on your skin from the inside out which I love. She really gets to the root of the issue."
Skin Witch Facials
Brow Freeze Sculpting Wax
"Even when my [brow] lamination's kind of growing out, the Brow Freeze really holds everything in place. It's clear, it doesn't flake, but it still really has the strength you need. I feel like most other brow gels don't hold your brows for long and you're constantly having to brush them up."
Anastasia Beverly Hills
True Soft Hair Masque
"I do a bunch of hair masks, but this one is really amazing and always leaves my hair super soft. I don't really use conditioner anymore, I go straight to the hair mask. I feel like they're more deep-conditioning and that's what my hair needs, especially since it's bleached. I also only wash it once or twice a week so I need that hydration boost that a mask delivers."
Maria Nila
Soleil Lip Blush Lip Balm
"I think the number one question I get on Instagram and TikTok is what lip color I use. I'll buy 20 at a time because they sell out so quickly. It looks clear but once you start to apply it, it leaves behind a pretty pink tint to your lip. It gives you the look of a stain but it doesn't fade quickly and [the formula] doesn't get stuck in your lip creases."
Tom Ford
Pro-Collagen Cleansing Balm
"I've tried every cleansing balm under the sun because I have hooded eyelids; I wear waterproof eyeliner so it doesn't transfer onto my face. So, for me, I like to use an oil-based cleanser first. This one from Elemis is so good. It gets everything off, it doesn't sting your eyes, and it smells amazing. I also love the texture—it's not too gooey but not too thick. Everything about it is perfect."
Elemis
Regenerating Exfoliating Cleanser
"I always do a double cleanse so I also use Tata Harper Regenerating Cleanser to wash everything away. I used all of her products throughout both my pregnancies because they're super clean. It's great because I just keep it in the shower. My husband uses it and my kids use it too. It's cool to have something that the whole family can use."
Tata Harper
Baume de Rose
"This is like the Windex of beauty products. You can use it on your lips, your cuticles—I use it on any dry area. I put it on during flights to moisturize my lips. To me, it's essentially the OG lip mask; it's been around forever. You layer it on and you're good to go. It also smells heavenly. I have it in my makeup bag and my travel pack."
By Terry
Resurfacing Compound
"This gives your skin the most amazing feeling after you use it. I use it at night because it has retinol [in the formula] and my skin always feels smooth and tighter. You can basically feel your pores shrinking."
U Beauty