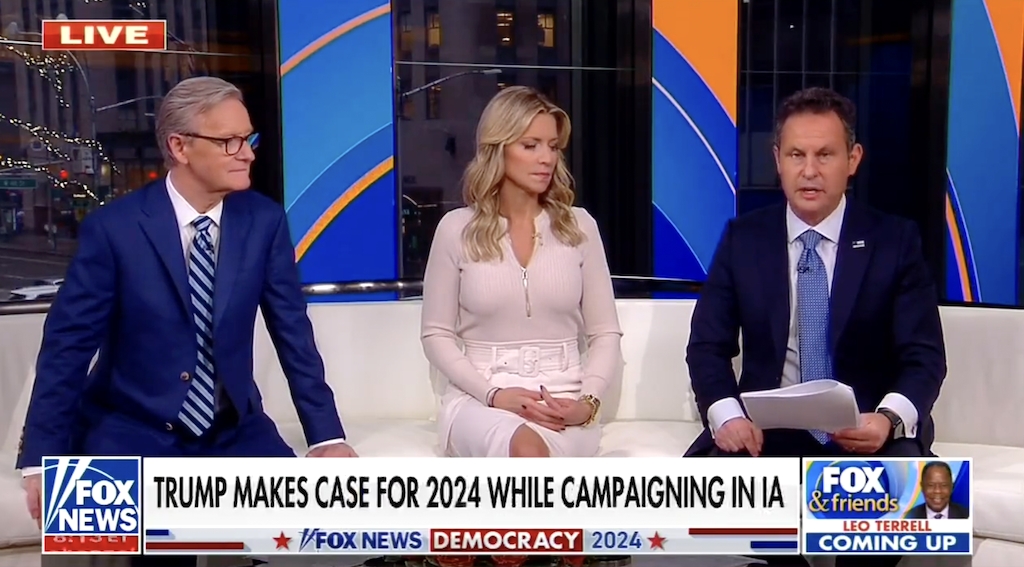 Trump Praised On Fox News For No Longer Dining With Bigots
As you might recall, Donald Trump didn't have a great end to 2022. He's not having a great 2023 either, what with a possible indictment on the horizon. But at least some of the time he's back doing what he loves the most: rambling in public about his self-professed greatness and railing against his many enemies. (And sometimes handing out his long-ago-discontinued water.) In fact, if you were to believe one of Fox News' stars, he should be lauded for clearing one of the lowest bars imaginable.
Brian Kilmeade on Trump: "Since he went to East Palestine, stopped having lunch with white supremacists … this is the most disciplined I've ever seen him." pic.twitter.com/fuZz0ui1eX

— Aaron Rupar (@atrupar) March 14, 2023
On Tuesday, Brian Kilmeade took time during that day's Fox & Friends to praise him for no longer doing one of the things that earned him widespread scorn last November: having dinner with open bigots.
"He also is on a bit of a roll since he went and visited East Palestine, stopped having lunch with White supremacists, and he has gotten a very disciplined message," Kilmeade gushed. He also bragged that he has a 73% approval rating among those without a college education.
"This is the most disciplined I've ever seen him – even compared to 2016," he went on. "If you see his team, you get text messages every day about policy, not, 'Such and such is a jerk' or, 'This person's nickname.' There are policy things coming out. So, it seems very organized."
Of course, Trump has often received the "new tone" claim before, in which reporters and pundits, even those on the left, praise him for no longer being a schoolyard bully…at least for a brief spell. But being praised for not chowing down with a Hitler-praising white supremacist is a new low. Perhaps the GOP could aim at least slightly higher? Surely there's plenty of other viable candidates who haven't dined with a little twerp who thinks "dating women is gay."
(Via Mediaite)